Updated July 1st, 2018 — version 266
The UnFair Advantage Book
Winning the Search Engine Wars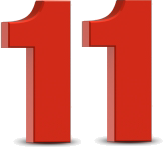 Chapter Eleven
Webmaster & SEO Analysis Tools
SEO and SEM CANNOT be done without tools. It just simply can't! There is too much information that needs to be extracted, analyzed, compared and then put into action. Fortunately, there are tools at your disposal that, not only do the heavy lifting, they remove most of the drudgery AND speed up the process immensely. In fact some of the tools can even make it fun!
Both Google and Bing provide Webmaster Tools that are technically free in exchange for access to your data, which they aggregate, and use to further their own agendas over the long term. That aside, we recommend you take advantage of them. You'll find they offer useful alerts and features that help diagnose and maintain your site's web presence. To access them you'll need an account with both Google and Bing. After signing up, they'll provide you with:
Alerts for DNS Errors, Server Down, Viruses, Malware and more.
Warnings if you're violating Webmaster Guidelines
Inbound Link Data
Click Through Keyword Data
Sitemap Submission
Microdata / Schema.org Markup Testing
Numerous Useful Reports
Author Stats
Google Webmaster Tools (GWT) can share search traffic data with Google Analytics
We also recommend you utilize the various tools you'll find within our SEN Membership site. Depending on which level of membership you select, you can access the following:
Site Strength Indicator — analyzes two sites side-by-side and calculates an overall site strength ranking score. It quickly compares your site to your competitor's site based on important ranking signals such as: PageRank, incoming links, and domain age.

(Basic SEN Membership required)

Link Prospector — Automates, streamlines, and simplifies the process of generating search queries to prospect for the best incoming links. Although you can do this manually, Link Prospector greatly accelerates the process and also gives you the advantage of using our proprietary list of link prospecting search queries to speed up the creative process. (

Business Support SEN Membership required)

HTTP Header Analyzer — provides verification and detailed analysis of http headers, query strings, cookies, redirections, authorization headers, POST parameters and error codes – all of which are necessary analytical information for web site managers and developers. (

Business Support SEN Membership required)
All of the following Professional Tools can be accessed with a ProTools SEN Membership.
SEO Super Spider — quickly locates site errors that can cause your pages to get filtered out or buried in Google's index.
Target Keyword Analyzer — quickly determines exactly which keywords a web page is most optimized for. Use it to learn the keywords your competitors' are targeting and also to find keyword errors on your own pages.
Outbound Links Analyzer — quickly discover which sites are likely to give you a link, and which sites are stingy about giving links. This tool can save you a ton of time by helping you avoid link requests from sites that don't link out to anyone.
Local Lead Generator — designed to find unverified local business listings in a particular geographic area. Useful if you are a Professional SEO and prospecting for Local clients who need help with their local search web presence.
Power Page Locater — quickly determine the best page (i.e., the power page) within a site from which to get an incoming link.
Site Auditor — provides keyword research, locates dangerous techniques that might get you penalized, finds broken links and technical problems, helps you get rid of toxic links, tracks your competitors' keywords, monitors your brand mentions, plus more.
Link Building Tool — Backlink Quality Check, Competitor Backlink Monitoring, Backlink Integrity Tracking, Unnatural Links Detection, Content Submission.
Social Metrics — Measures and monitors Web Buzz, Social Engagement, and Social Traffic metrics.
Marketing Analytics — provides Rank Tracking, Web Analytics, and Competitor Metrics
SEO Checklist — covers every optimization stage and type of activity that will help you to perform SEO effectively, even if you are new to the process.

Whether or not you're new to SEO, the best reason for using these tools may be that, collectively, they're a phenomenal learning tool. Using them will, literally, skyrocket your understanding of SEO – quickly!

The good news is, you can try all ALL of these tools for 7 days for $1 by following this special link and selecting the ProTools option. We recommend that you jump on this trial offer because it's the best way to learn SEO quickly and completely. And, now that you know the basics, you'll see how all the pieces fit together even if you cancel at the end of 7 days.