Updated September 1st, 2023 — version 331
The UnFair Advantage Book
Winning the Search Engine Wars
Chapter Two
Organic Results & The Search Engine Order of Importance
Simply put, the only search engine that really matters today is Google. As the graph below shows, Google is the 800lb Gorilla that dominates all the other search engines combined — and this has been the case for a very long time.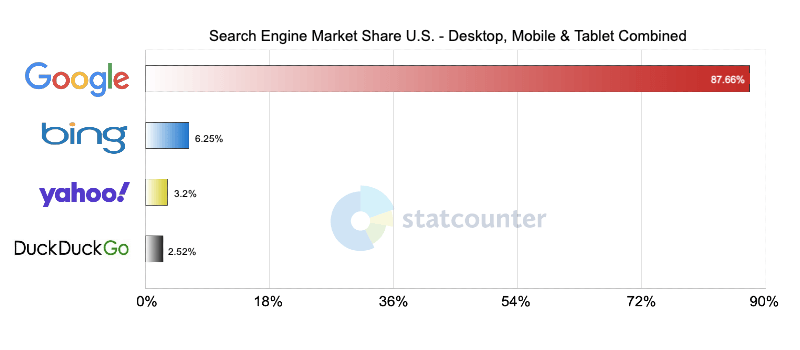 Of course, we're talking about which search engine you should optimize your pages for — not necessarily who is the best search engine. Frankly, that's highly debatable, depending on your interests and criteria as a searcher.
From a searcher's perspective, Bing is a very good search engine. However, Microsoft (which owns Bing) hasn't been able to gain traction in Mobile search. Their share of the Mobile search market is a pitiful 1.3%. But on desktop search, Bing weighs in at a respectable 12.5% which isn't bad and possibly worth factoring into your SEO marketing efforts IF the majority of your target audience is accessing your website from desktop.
Yahoo gets its search results from Bing. So, if you target Bing with your search optimization efforts, then you are also targeting Yahoo. By combining the market share of both on desktop, Bing + Yahoo have about 17% — which is a fair slice of the desktop marketshare. However, on mobile the two combined have only about 3.5% which is meager at best.
Considering that 52% of searches in the U.S., and almost 60% globally, are done on Mobile, the tiny slice of traffic that Bing + Yahoo can send you is a drop in the bucket.
This is important because Google's market share is so dominate in mobile that all of the other search engines combined, worldwide, make up LESS than 5%.
Yes, you read that right...
Google owns over 95% of the Global Market Share for Mobile Searches.
In the U.S. they own over 93% of the Mobile search market
So, suffice it to say that Google has a monopoly on search. That's why, throughout this book, when we say "search engine" we're really only talking about Google unless we say otherwise.
But, in regards to GOOD search engines, from a user perspective, each of them have their merits depending on your priorities. DuckDuckGo, for instance, is privacy focused. They don't track their users' searches and they don't sell your data. They provide very good search results and, from a user's perspective, are much more data-friendly. They serve ads, but the ads aren't targeted specifically toward you and the ads don't follow you around the web.
If you haven't tried DuckDuckGo, you should — especially if privacy is a priority for you. However, focusing your optimization efforts on DuckDuckGo isn't worthwhile because the traffic they can send you is a tiny, tiny fraction of the traffic that Google can potentially send to your website.
China's leading search engine, Baidu, has a global market share of 1.23%. However in China, Baidu's market share is just under 85%. So, if your target audience lives in China, then Baidu is definitely the search engine you should be optimizing your webpages for. But since we're assuming you aren't in China, and your target audience isn't in China, we don't cover SEO strategies for Baidu in this book.
Search Results — Organic vs. Paid
Many people think the rankings in the search engine results are bought and paid for. In the beginning, that was completely untrue. Today however, it's partially true.
In the beginning, there was the organic results — search engine listings that were 100% based upon webpage merit – a meritocracy system, if you will. But today the results are mixed. As you probably know, Google makes its money selling ads in the search results. However those ads are limited to a relatively few listings when compared to the organic — the unpaid for — results.
The image below shows a side by side difference on a desktop search. The search on the left is showing results that are paid Ads, identified by the tiny Ads notation indicated by the RED pointer. The organic search results are identified by the green pointers. The search on the right is filtered using an Ad blocker so it shows ONLY the organic (unpaid for) search results.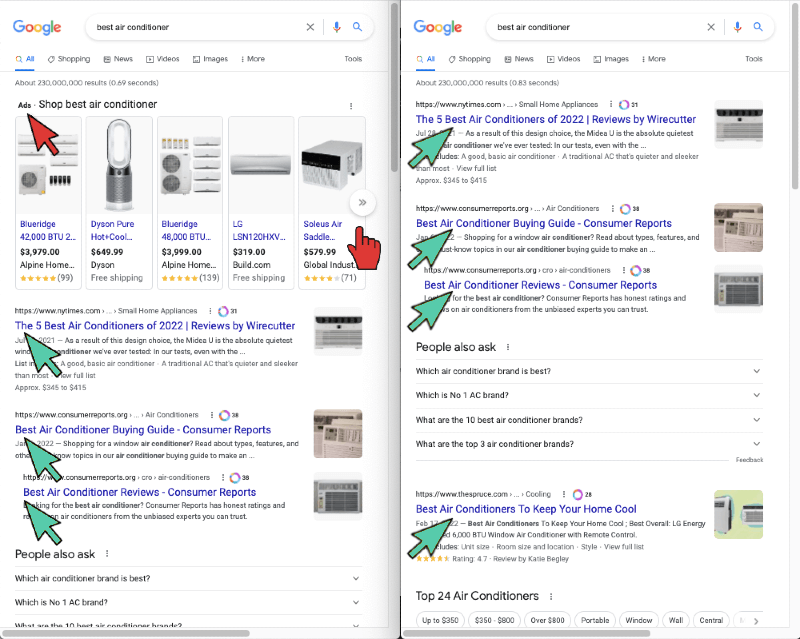 As you can see, most of the search results are unpaid for — the organic search results (aka, listings). These pages are ranking well in organic search based on the strategies you will learn in this book.
Looking at the left side search, notice the red hand pointing at the button which enables you to scroll through the paid ads by swiping right or left in the carousel. The carousel is missing in the search on the right because our Ad blocker is blocking the paid Ads. Toggling your Ad blocker on and off can be useful for identifying which of the search results are paid and which are unpaid (i.e., organic).
In addition, because more and more people are using Ad blockers these days, businesses are finding that focusing on ranking high in the organic, unpaid-for search results is probably the most important part of their overall online marketing strategy.